Notice
: Trying to get property 'ID' of non-object in
/var/www/html/staging/coursecompare.ca/wp-content/themes/coursecompare/blog-list-template.php
on line
105
Read more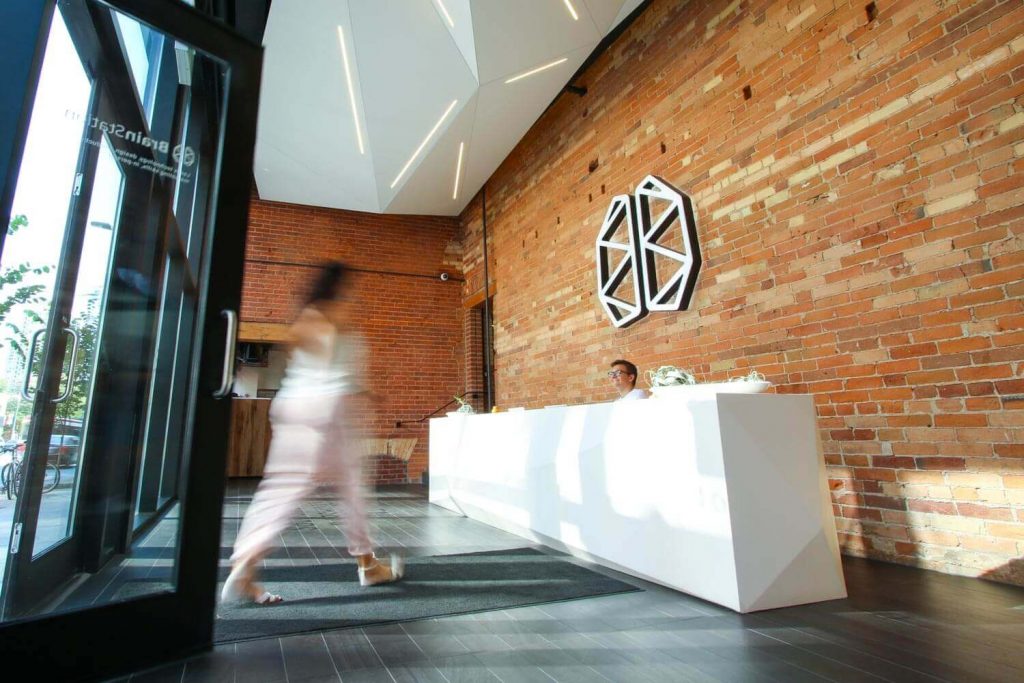 BrainStation is a global leader in digital skills training. BrainStation empowers individuals and organizations to achieve digital success through courses, workshops, events and corporate training.
BrainStation's Education team of 250 industry professionals has trained over 100,000 people through campuses in New York, San Jose, Toronto and Vancouver.
What Sets BrainStation Apart?   
BrainStation's LMS (Learning Management System), Synapse, is among the most sophisticated on offer in Canada. The live online learning platform allows students to attend live lectures, collaborate with other professionals, and get immediate feedback from instructors — wherever they are.
What Students Are Saying
"After graduating University with an Undergrad in Business, I wanted to grow my technical skillset to adapt to the digital world we live in. BrainStation sparked my attention with their state of the art campuses, curriculum and online live learning capabilities. I have completed their Product Management, Data Analytics, Data Science and Web Development Courses and must say it has been a terrific experience. - Their instructors are great and knowledgable in their respected fields - Their campuses are unique trendy locations which makes learning even more enjoyable - Their staff are friendly, helpful and want their students to have the best experience - Their online live courses are a game changer having the ability to take a live course with classmates all around the world - The BrainStation community is positive environment where you find like minded individuals with a passion for technology and life long learning Overall, I highly recommend anyone to pursue a course at BrainStation to gain a new skill and embrace life long learning! "

Kal Simonis, Web Development
What You'll Learn
BrainStation offers full and part-time courses in web development, UX/UI design, Digital Marketing, Data Science, Product Management and Cybersecurity. Explore BrainStation's full course catalogue, tuition and upcoming start dates near you.
Locations
Online, Toronto, Vancouver, New York, Chicago, Boston
Lighthouse Labs was created as an experiment in 2013 by a group of software developers with a passion for code, mentorship, and education. The school's mission: to continuously find the best ways to train the next generation of developers and to transform the way tech education is delivered. Over two years later, Lighthouse Labs is still chasing that same mission.
What Sets Lighthouse Labs Apart?   
When it comes to in-person training, Lighthouse Labs offers a more expansive geographic reach than any other Canadian coding bootcamp, with campuses from Vancouver to Halifax, with many stops in between. The college maintains a high job placement rate (95 percent within 180 days of graduation), high average student salary ($84,908), and high graduation rate (91 percent). In 2020, Lighthouse Labs committed $1 million in needs-based scholarship funding to new students. It also decided to build on its success educating the future coding workforce with new courses in data analytics and data science, including the new data science bootcamp.
What Students Are Saying
"What I loved about my experience is that it gave me the structure I needed to learn the right skills in the right order. Lighthouse gave me the tools I needed to explore answers on my own to just about every problem I encountered. And the teachers were amazing; more like career coaches and coding gurus than teachers, it felt like at times. I didn't expect much from career services, but I was actually blown away. Everyone in my class landed interviews as a direct result of Lighthouse Labs' career support, and all but one had a job as a junior developer 3 months after graduation. One bonus of my experience is that I've begun getting requests to build websites from family and friends, and will hack away on weekends earning a not insignificant side income this year! "

Anthony, Online Web Development Bootcamp
What You'll Learn
Lighthouse Labs offers full- and part-time courses in web development, iOS development and front-end fundamentals with JavaScript. Explore Lighthouse Lab's full course catalogue, including tuition and upcoming start dates near you.
Locations
Online, Toronto, Vancouver, Montreal, Halifax, Ottawa, Victoria, Calgary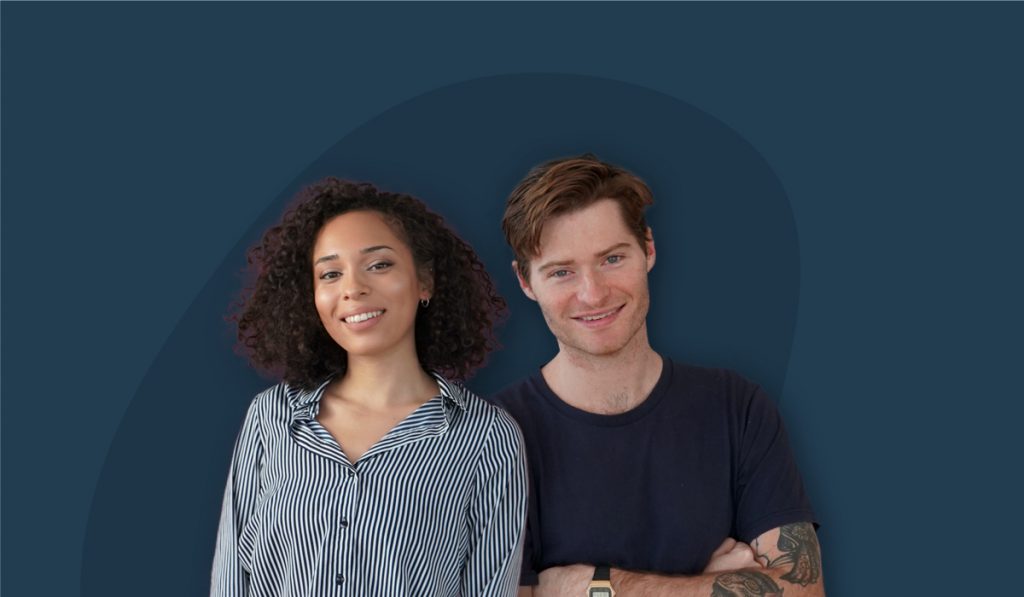 CareerFoundry offers mentored online courses in UX design, UI design, data analytics and web development. The Berlin, Germany-based online educator is focused on helping beginners become tech professionals in as little as six months with help from dedicated mentors, tutors and career specialists. According to CareerFoundry, 96 percent of graduates land a job in their field within 180 days of graduation.
What Sets CareerFoundry Apart? 
CareerFoundry's well-calibrated online, mentored, programs strike one of the best balances available today between live and self-paced online learning. Students receive individualized mentoring and support from their personal mentor and tutor through a live online learning environment, as well as from a dedicated team of student advisors and career specialists. Lessons are broken down into broad topics called Achievements, each of which is supported by a series of hands-on exercises designed to mimic actual work projects.
CareerFoundry's Job Guarantee is another key differentiator. Students who do not land a job in their desired field within six months of graduating get their money back.
What Students Are Saying
"Back in October 2017, I have the opportunity to join the User Experience Design course at CareerFoundry, completed the course in June 2018, and immediately I got my first UX role in July 2018. CareerFoundry course helped me to find myself and my passion, also the course curriculum is fully rich, appropriately comprehensive, and self-paced, and supported with an abundance of resources for every step along the way which helped me to build my skills and guiding me to work in a career which I really love. CareerFoundry community is a great supportive place with a positive and encouraging learning philosophy, during the course you will be surrounded by a well trained and professional team including mentors, tutors, student advisors, and the whole team who work to help you step by step to reach a professional level and prepare you for the job, also there is a welcoming community on Slack where it's easy to reach out and connect with other students. As a previous student and a UX tutor now at CareerFoundry, I extremely believe the UX course with CareerFoundry is the right choice for you and your future and will help you to find your passion. If you are considering to make a difference, and create a positive impact on your life, I highly recommend CareerFoundry.👍 I can't be more grateful for being part of this great community. Bara'a "

Bara'a Hussein, UX Design Program
What You'll Learn 
CareerFoundry's Web Development Program covers the full-stack, from HTML, CSS, and JavaScript to API building, server-side development, test-driven development, progressive web apps, native app development, and industry-standard tools including Atom, GitHub, Node, React, Angular, Vue, Bootstrap and more. Real-world business contexts are core to the program's design, informing additional topics like API integrations and agile project management that will help give graduates an edge. CareerFoundry also offers mentored online learning in UX Design, UI Design, and Data Analytics.

Le Wagon in Montreal offers a top-notch coding curriculum that gives students every bit of knowledge necessary to develop their own applications from the ground up. More than 160 startup companies have been founded by Le Wagon alumni, with a select few going on to be acquired by Apple.
What Sets Le Wagon Apart?
Students have the choice of either nine-week full-time studies or a 24-week part-time course load, both of which cover the same topics. With 40 hours of online prepwork to ensure students begin on more-or-less the same footing, Le Wagon offers considerable pre-program support compared to most other bootcamps. Prep also includes introductions to workflow tools and common terminology before students begin using a text editor.
Le Wagon's nine week full-stack program is based out of 45 cities in 25 countries, aimed at those looking to start their own business or add technical skills to their portfolio. Grads come away with the knowledge of how to design every aspect of a website or app, with a heavy dose of exposure to local startup scenes and entrepreneurial thinking. In a typical day, students will find time for lectures, challenges, live coding events and yoga breaks.
What You'll Learn
Students first tackle programming basics in Ruby, an open-source programming language that's foundational to this particular program. Software architecture, SQL, databases and object-relational mapping are also taught before diving into hands-on projects. Grads will leave with the knowledge of how to design apps and websites, and best practices for independent learning based on an understanding of the direction of future web development technologies.
Locations
Online, Montreal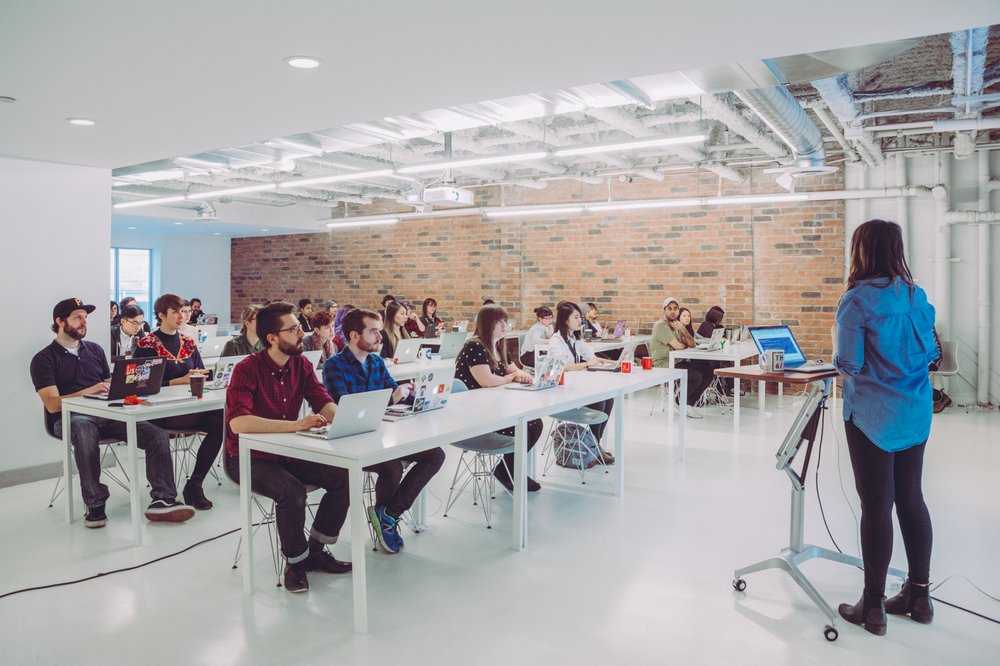 At Juno College (formerly HackerYou), you get more than just a couple of awesome projects for your portfolio. When you make the decision to learn with Juno, you're taking a big leap. It means you're ready for change in your professional life. Juno's goal is to give you the tools necessary to succeed. With that vision in mind, the Juno experience is tailored to you, and that's why it's among the top-rated tech schools in Toronto.
What Sets Juno College Apart?   
Juno, perhaps more than any other bootcamp, boasts a summer camp vibe and almost cult-like community following. The school is well-known for helping graduates foster close professional relationships within Toronto's tech community and beyond.
Juno was the first coding bootcamp in Canada to offer Income Share Agreements (ISAs), which allow students taking its Web Development Immersive Bootcamp to pay tuition of just $1 until they land a full-time job in their field.
What Students Are Saying
"I took the Web Dev course at Juno. At first I was nervous, as I was learning a brand new skill and I was intimidated by the field. But, everyone I dealt with at Juno made it not only something that was extremely approachable and worked with my learning style, everyone from Juno was so kind and fun to work with. Highly recommend. Amazing course.  "

Hayley Elsaesser, Web Development
What You'll Learn
Juno offers full and part-time courses in web development and UX/UI design. Explore CourseCompare's dynamic course catalogue with tuition and upcoming start dates near you.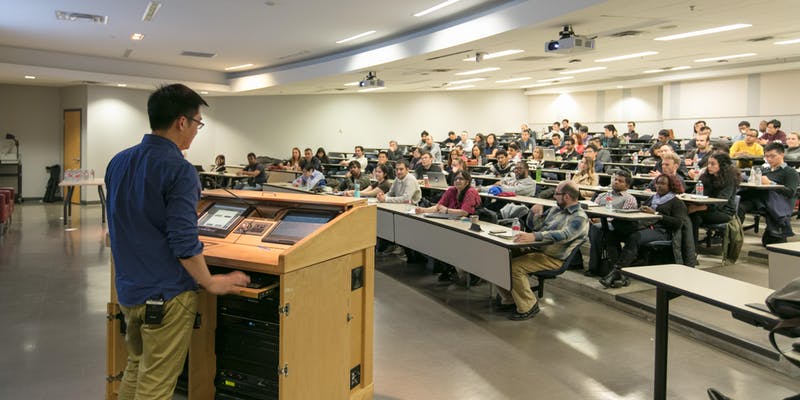 WeCloudData continues to evolve with customized bootcamps focused on data science and big data knowledge — but with plenty of coding education on offer for the data engineering inclined. The Toronto-based bootcamp bills itself as a leading data science education and career service provider in Canada. The school is known for serving as a bridge between devoted and passionate data scientists and companies who need help with challenging business problems in data analytics.
What Sets WeCloudData Apart?
WeCloudData may not be Canada's best bootcamp for learning front-end development, but when it comes to Python, SQL and coding for data engineers, it shines. WeCloudData was one of the first bootcamps in Canada to offer advanced training in data science, and its co-founder, Shaohua Zhang, still spends plenty of time in the classroom, where he consistently gets top marks for teaching. Before co-founding WeCloudData, Zhang taught big data at Ryerson University and managed research and development projects at Blackberry.
What Students Are Saying
"Good news - you can stop searching! I did all the research I could before making the decision to do the Immersive Data Science Bootcamp at WeCloudData and after completing it, I can confidently say it's the best option you can choose. Shaohua and Vinny are extremely knowledgable instructors and genuinely care about your progress during the bootcamp and in finding a job afterwards. You will learn everything you need to know for entry level DA/DS/DE jobs: Stats, Webscraping, SQL, Python, Machine Learning, Big Data. It's all covered thoroughly and efficiently. Like most education it will be what you make of it and the program is rigorous so I recommend pausing your life for a few months. The client projects they offer give you legit on-the-job experience and are very helpful during the job search. Not long after I completed the course I was offered a job that exceeded all of my expectations. Many of my classmates had similar results. Lastly, I knew 2 people that took both the WCD bootcamp and $65K+ Masters of Analytics and they both said WCD was clearly superior. If you're not convinced, then do what I did and try out one of their part-time courses to see if it's a good fit. "

Todd S., Data Science Diploma
What You'll Learn
After a short hiatus, WeCloudData's full-time Data Science Diploma program is back. For developers looking to deepen their big data skills, part-time courses in SQL, Python and applied machine learning round out the school's most popular offerings. For those interested in cloud computing, WeCloudData also runs the only AWS big data specialty course among Canadian bootcamps.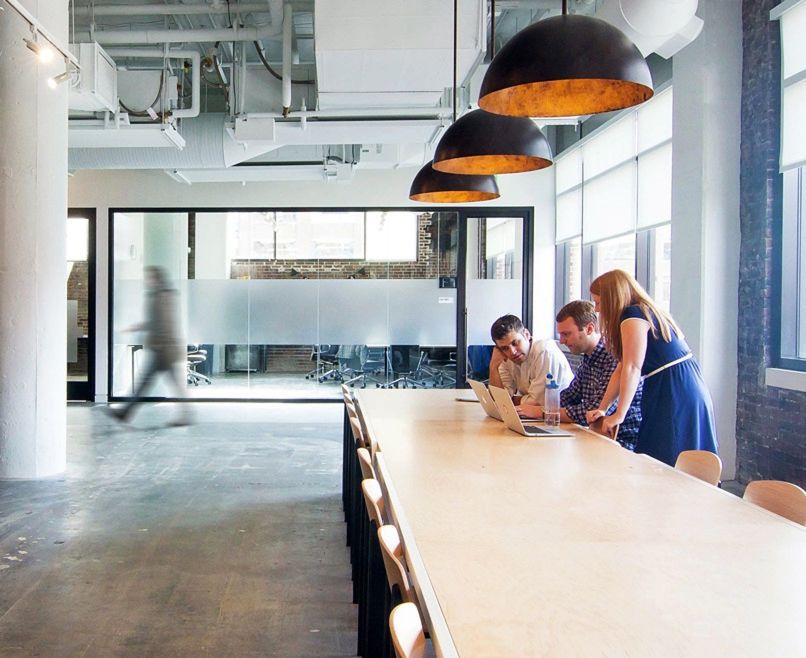 Since 2011, General Assembly has transformed tens of thousands of careers through pioneering, experiential education in today's most in-demand skills. When you learn web development, data, design, business, and more with GA, you get award-winning curriculum and expert instructors, on campus and online; a global, professional community of 40,000-plus full- and part-time alumni; and career results from leading-edge courses, with mentorship each step of the way.
What Sets General Assembly Apart?   
In 2016, Bitmaker Labs in Toronto was acquired by U.S.-based education company General Assembly. Under General Assembly, the Toronto campus joins 20+ others worldwide, with access to a global network of more than 10,000 hiring partners. Bitmaker practically pioneered the free in-class workshop among Toronto-based coding bootcamps–a tradition that continues today with General Assembly.
What Students Are Saying
"The course teaches you the popular languages and frameworks but the emphasis is on teaching you the skills and tools you need to learn things on your own, reflective of real-life scenarios. Site visits to tech companies and guest lectures provided excellent insights into the industry. Lastly, but probably most importantly, the part of the curriculum focusing on career strategies will teach you the most effective job-finding strategies, including networking, applications, and interviews — IF you're willing to put in the work! Overall an amazing experience that helped me start a new career as a software developer. "

Dmitry, Web Development
What You'll Learn
General Assembly offers full- and part-time courses in web development, UX/UI design, digital marketing and product management.
Locations
Online, Toronto, U.S., Europe, Asia and Australia
Concordia University in Montreal is the highest ranked North American university to be founded within the last 50 years. It is also among only one other university on this list to offer to offer a job-focused web development program in an accelerated format. The University's emphasis on coding and computing, part of what's being billed as a plan to redefine the 21st century university, is positioning itself to advance a Montreal tech boom.
In 2018, Concordia re-named its engineering department to the Gina Cody School of Engineering and Computer Science after Cody, an alumna, donated $15 million to the school. It is the first engineering school in Canada to be named after a woman.
What Sets Concordia Apart?
Concordia's flagship Web Development Diploma program leaves students with a mastery of web development after 12 weeks. Partner DecodeMTL grants students unparalleled access to industry professionals who bridge the gap from education to employment.
More than 90 per cent of Concordia coding bootcamp students are hired within six months of graduation, with an average starting salary of $55,000. Additional programs focused on what to do after graduating, how to search for jobs more efficiently, and interview skills are available for bootcamp students as well.
What Students Are Saying
"I chose Concordia and DecodeMTL because I heard the curriculum was strong and easy to follow. Having a connection to Concordia is also valuable for employers. The diploma is very demanding. I started with basic knowledge of HTML and still needed to commit the hours to learning on my own. The instructors are very good at their jobs. They were always available when I needed them and helped me whenever I was stuck. They put everything into a business context too which I appreciated. The last thing is that you need to hustle to find a job. The school will help with CV editing, mock interviews and getting you a better online presence. It all helps, but some students like to think a job will be waiting for you without any work. That's not true, so be ready. "

Imran Saadeh, Web Development Diploma
What You'll Learn
Students will learn through full-stack programming projects as well as cohort-based work. They will explore the fundamentals of programming, such as higher order functions and object oriented programming. Server and database programming with NodeJS, a free open source server environment are also emphasized. Front end use of React and Redux, one of the most popular UI development tools available, also round out the curriculum.
Locations
Online, Montreal
9
University of Toronto School of Continuing Studies
The University of Toronto School of Continuing Studies (SCS) is among the largest providers of continuing education in Canada, with more than 700 courses, 40 program areas, 100 certificates and 700 instructors. The University has partnered with Trilogy Education Services, an NYC-based education technology company, to deliver a variety of programs in a bootcamp format, from coding to data analytics, digital marketing and fintech (financial technology).
What Sets the University of Toronto SCS Bootcamps Apart? 
UofT SCS "Boot Camps" offer more flexible learning options than most bootcamps, with part-time and full-time options for students who want the same intensive bootcamp experience but can't afford to take time off work. Despite a bumpy start in 2017, the School has continued to fine-tune its curriculum and expand its offerings into a variety of in-demand digital training options, with a robust network of companies and instructors to show for it. The School has strengthened its career services, too, with coaching, portfolio and resume assistance, and technical interview training, now available to all students.
What You'll Learn 
True to form, the bootcamp curriculum is rigorous, covering full-stack programming in just 12 weeks of full-time study or 24 weeks of part-time study. Students will begin with HTML, CSS, JavaScript and jQuery before working their way through Bootstrap, MySQL, React.js and more.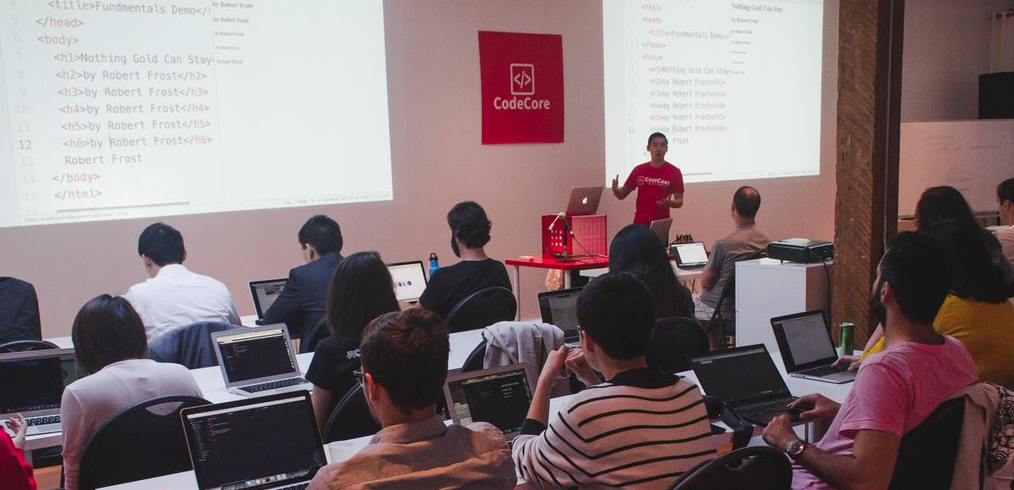 CodeCore Developer Bootcamp is an intensive in-person training program in professional web development that runs for 12 weeks at a time, 6 times a year, in Vancouver, B.C., Canada.
CodeCore program administrators work with some of the biggest names in the industry. Great companies such as Wishpond, ZOZI, Clio, Sage, ModernAdvisor, and BMC have formed partnerships with CodeCore, and organizations such as Simon Fraser University, and Canadian Women in Communications have also built relationships with us.
CodeCore Developer Bootcamp is a program of CodeCore, which is recognized by the BC Ministry of Advanced Education as a PTIB Designated Institution.
What Sets CodeCore Apart?   
Interested in learning full-stack web development? CodeCore offers training across a breadth of programming languages in a notoriously intensive study environment (students arrive on campus at 8:00AM each weekday and get plenty of coaching time from instructors who stay late into the evening). To help improve workplace diversity, CodeCore offers all female students a $500 scholarship upon enrolment into its full-time coding bootcamp.
What Students Are Saying
"Whether you are a junior or intermediate developer or recently graduate from school, CodeCore is one of the places you can start a new career. 12 weeks intense course help you to boost your career path. Needless to say it reuires hardworking. It is recommended people without CS background just take part-time courses and if they found they can go further then try full-time course. CodeCore is a friendly and positive environment which has proved its name in Vancouver for years by educating great developers. "

Amir, Web Development Bootcamp
What You'll Learn
CodeCore offers a beginner Fundamentals course and a full-time, three-month bootcamp with JavaScript, Ruby (and Rails), HTML and CSS.